Traveling During CoronaVirus Outbreak? The Safety Measures To Take, Destination Least Affected By CoronaVirus!
Everyone knows these days that traveling has become a pretty concerning action in the last couple of months, with the global spread of the Coronavirus (COVID-19). People are canceling booked trips and health officials are continuously giving warnings to minimize contact with already affected countries. If you have decided to travel, for whatever reason, you can keep yourself safe from the Coronavirus by following some measure steps and you should have travel insurance cover as well if you do catch the disease while abroad.
Safe to Travel During the CoronaVirus Outbreak?
No person can tell that traveling during the coronavirus breakout is entirely risk-free despite your age, health, or travel destination. While the COVID-19 fatality rate appears to be relatively low, and you may even return from your trip in great health, there are some things you should consider before you travel:
Your age.

The elderly persons whose age is over 80 years are the ones most endangered for complications of the coronavirus disease whereas people having age in between 10 to 39  have shown relatively low fatality rates but it does not mean that you have a lower chance of infection if you are younger. It is only that you have a lower chance of the disease becoming serious. In Spite of your lower age, you can still become infected and spread the disease among others.

Your medical history.

People who are already infected with normal flu are also more susceptible to become seriously ill from the coronavirus than those who were previously healthy. If you are having any respiratory disease, cardiovascular disease, diabetes, hypertension, cancer, etc. then you must reconsider traveling.

The country you will visit.

There have been nearly 130,000 reported cases of the Coronavirus worldwide, and the numbers are constantly increasing day by day. The majority of the cases are in China, where the virus first originated, but there are other places with thousands of reported cases as well in which most prominent places are Italy, Iran, and South Korea. So the CDC has warned not to travel to these countries unless it is essential. This does not mean that traveling to countries with a smaller number of reported cases is safe as well. Instead, you will have to go into self-quarantine for two weeks after returning from a high-risk country even if you are not infected.
Symptoms Of Coronavirus
If you are infected with COVID-19 then there will be common signs of infection including respiratory symptoms, fever, cough, shortness of breath and breathing difficulties. In serious cases, the infection can cause pneumonia, severe acute respiratory syndrome, kidney failure, and even death. The Public Health Agency says that most of the time the coronavirus causes symptoms similar to those of flu such as fever, breathing difficulties, cough, sore throat but also muscle pain and significant fatigue. All of these symptoms heal spontaneously. Some people around 3% can develop severe pneumonia, respiratory distress syndrome or even septic shock. There will be a huge difficulty in breathing or shortness of breath. Persistent pain or pressure in the chest will be there. You will not be able to arouse. Your face or lips will start becoming blue.
Hygiene measures to prevent Coronavirus:
According to the World Health Organization, you can keep yourself safe from COVID-19 outbreak by taking these preventions:
Wash your hands frequently.

You should wash

your hands with soap for at least 20 to 30 seconds all the time especially after being in public or traveling through public transport. If you are traveling by plane then you should wash your hands properly after leaving the airport. If you don't have an approach to soap and water then rub a hand sanitizer gel, which has at least 60% alcohol content in it, on your hands and wrists. But remember that hand sanitizer is not as effective as a thorough wash with soap.

Do not touch your face with unwashed hands.

If you have been in a public place then don't touch your face till the time you have thoroughly cleaned your hands. The coronavirus can live on surfaces for hours and then it will be touched by an infected person and can infect you if you touch your mouth, nose, and eyes.

Keep your distance.

If you notice someone is coughing, sneezing or showing symptoms similar to that of the flu or a cold then make sure to stay at least 1 meter or 3 feet away from them. You can become infected by their cough or sneeze droplets.

Clean regularly touched items with a cleaning spray or wipe.

While you abroad then make sure that you book that hotel where you know that it will be clean. You can even check in with the staff and management to see whether they have cleaned your room thoroughly or you can even sweep the things with a disinfectant yourself.

Avoid crowds especially in closed spaces.

If you are traveling to a country with a high number of coronavirus cases then it is best that you stay away from any place where there is a large number of people.

Before traveling just do your research regarding the spread of the coronavirus outbreak in the country you are visiting. You should be aware of what the health and government officials are advising in that country and follow the same rules. If they are advising that they stay away from crowds or a certain region then you should do the same as they are telling.

Take medical help if you develop symptoms.

If you will be doubtful that you have COVID-19 symptoms such as fever, coughing or difficulty breathing then immediately put a mask on your nose and mouth so that you don't risk infecting other people's lives and take medical help immediately.
Destinations that should be avoided
Avoid cruises where the proximity of getting infected by coronavirus is permanent and constant. As a security measure, you can also avoid large hotel complexes and prefer to book your tourist apartment, villa, guest house or a medium-sized hotel where fewer people are staying.
The following destinations are most affected. So we should avoid traveling to these places:
Italy

: Venice, Milan, Bergamo, Rome, Florence, Turin. Italian ski resorts have also been closed.

France

: Amiens, Bordeaux, Oise, Morbihan, Montpellier. French ski resorts have also been closed.

Germany

: Berlin and the region of Bavaria

Spain
Unless You Are Stuck Or Have No Option Other Than Traveling Do Avoid It
Destinations least affected by CoronaVirus
If you are planning to travel in your holidays but thinking about where to go in Europe then here is a list of destinations less affected by this virus.
Corfu – Greece | Destinations least affected by CoronaVirus
Corfu has been one of the most popular tourist destinations in Greece. It is incredibly popular with tourists, especially backpackers, who visit Corfu for its inexpensive parties and famous parties.
This place is located in the Ionian island group in western Greece and it is composed of white sand beaches, an active nightlife, and stunning mountains.
The quality of air is three times higher in Corfu than in central Paris and the population density on this Greek island is 23 times lower than the population density in London.
Corfu's shoulder seasons are April to May and September to November. These are the best times to visit the island. Although the Mediterranean is pleasant all over the year, you'll still get warm temperatures in the shoulder seasons but the tourist rush will not be there. Moreover, prices are less raised this season. The average height is 73°F (23°C).
Summer season i.e June to August are really hot with temperatures averaging around 88°F or31°C each day. The season is perfect for swimming and enjoying water sports but this is definitely when most people visit. Sometimes this season becomes the peak season as well. So we can expect the most crowds and highest prices too.
Winters average 50°F (10°C), and you won't have to compete with tourists for hotel rooms during this time, but keep in mind that many businesses and services shut down in the off-season.
Come discover this rich historical past, stay at its paradisiacal beaches, enjoy its wine, its virgin olive oil and offer yourself a private Corfu full-day wine tasting tour or a 5-hour private Corfu & Achillion palace tour.
Book your flights to Corfu as well as your accommodation at the best price guaranteed and treat yourself to a dream holiday in one of the most beautiful Greek islands.
The Algarve- Portugal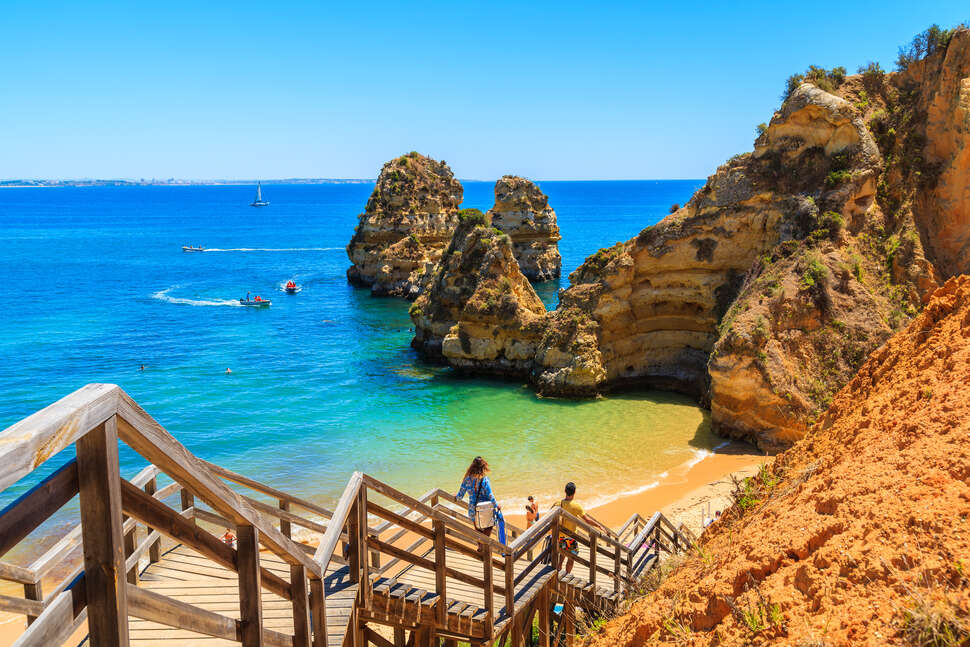 The Algarve is situated on the southern coastline of Portugal. It is a region that consists of stunning beaches, picturesque fishing towns, and a glorious climate. All of these combine to create the perfect holiday destination.
The Algarve is able to appeal to a wide cross-section of tourists as it is different. There are amazing beaches for families, waterparks and theme parks for thrill-seekers, buzzing nightlife for partying and historic towns for cultural visitors. For a holiday the Algarve is a hassle-free destination. The region is very safe, hotels are of a high standard, the English language is widely spoken and the Portuguese are very good at welcoming and hospitality. The Algarve provides some of the best value for money in Europe, being the second least expensive holiday destination in Europe, second only to a tacky resort in Bulgaria. Destinations like Lagoa, Lagos, Aljezur are among the destinations with the purest air in Europe. Forests of eucalyptus trees, pines, sea air are beneficial for the respiratory tract. Imagine that the air on an Algarve beach is 100 times less loaded with germs than on the streets of London. This place is sun-drenched which makes this region perfect for outdoor sports, golf, surfing, trekking.
Antalya- Turkey
Turkey is one of the European countries which is least affected by the coronavirus.  Antalya is a perfect destination for those who want a break from the city and want to enjoy a beach holiday. Antalya is very famous for its turquoise blue waters and its magnificent sandy beaches all over the world. Antalya is surrounded by Greek and Roman ruins. You will love the most of its old historic center, its traditional cafes but also its trendy cultural places. Do you like a holiday in nature then you should go to a Duden waterfall with a boat trip or travel from Antalya to "Pamukkale" which is called a cotton palace. You can discover the landscapes around Antalya from up on a panoramic tour by cable car. If you are traveling with children then you must take them to a Viking boat tour on the beautiful bays of Kemer. Antalya has grown around this dock and nowadays it's where the rich park their yachts and where you can take a boat around the coastline to visit the waterfalls. Perched above the cliffs and all around the harbor are a series of restaurants serving up fresh fish and other typical Turkish dishes.
Parga | Destinations least affected by CoronaVirus
Parga is on the northwest mainland of Greece and is loved for its gorgeous beaches and laid-back atmosphere. We must explore ancient fortress ruins, visit the hilltop Ali Pasha castle and talk to some friendly locals at one of Parga's seaside taverns.
This place is only 60 kilometers away from Aktion / Preveza airport. Parga is a beautiful fishing village with a beautiful cove and beach. On-site you can get around by rental car or taxi. Treat yourself to the best by booking your hotel in Parga, your tours and activities in Greece such as a "full-day boat cruise" to explore the beautiful old town of Parga.
Cork Ireland
Cork Ireland is one of the European countries which is least affected by the coronavirus. Cork is best for families and friends who want holidays not in the city but somewhere else. Cork has it all. Cork is the best place if you want a holiday by the sea, if your wife wants to go hiking or biking with the children or the children like kayaking and windsurfing. Cork city and county offers visitors history, heritage, and landmarks, accompanied by artisan food and drink and a strong cultural, musical and artistic vibe. This is a place of dramatic natural landscapes, riverscapes, harbors, bays and seascapes, a place of mountains, river valleys, and coastlines.
Ireland's second city is first in every important respect who cheerfully refers to it as the 'real capital of Ireland'. It's a liberal, youthful and cosmopolitan place that was badly hit by economic recession but is now busily reinventing itself with spruced-up streets, revitalized stretches of waterfront, and an artisan coffee bar on every corner. There's a bit of a hipster scene, but the best of the city is still happily traditional snug pubs with live-music sessions, restaurants dishing up top-quality local produce and a genuinely proud welcome from the locals.
Budapest – Hungary
Budapest is the capital of Hungary and this place is famous for its history and natural attractions. Millions of tourists visit Budapest every year. This place is spread in about 500 square kilometers and located in Central Hungary. The Danube river flows through Budapest. It is divided in two areas One is Buda which is the hilly side and the other is Pest which is plain. In addition, there are two small islands created by the Danube river – Obuda Island and Margaret Island. The central area of the city along the Danube River is called a UNESCO that is World Heritage Site and has several notable monuments which include Hungarian Parliament, Buda Castle, Fisherman's Bastion, Gresham Palace, Széchenyi Chain Bridge, Matthias Church, and the Liberty Statue.
Menorca – Spain
Menorca is the preserved island of the Balearic Islands where migratory birds and dolphins are more welcome than large hotel groups. This island is a UNESCO-listed Biosphere Reserve and it is an ideal destination for a stay in the great outdoors to unwind and discover sublime landscapes and recharge your batteries. Menorca is not very large but you can choose to stay in both parts of the island either at Ciutadella or at Mahon. We should see each and everything on this island as there is nothing to miss from this heavenly island. It will suit hikers, lovers of old stones as well as those who just want to lie on the beaches or admire the seabed. But don't forget to take your masks. Be sure to visit Ciutadella which is one of the prettiest towns on the island. Macarella Beach, which ranked first among the most beautiful beaches in Europe, is very well worth a visit and we should come early in the morning in high season. To get off the beaten track, take a walk to Ferreries or Fornells. Menorca is a perfect destination for holidays for two persons or a family. If you travel in the spring or autumn season then you will pay less for a quiet holiday.
The Azores – Portugal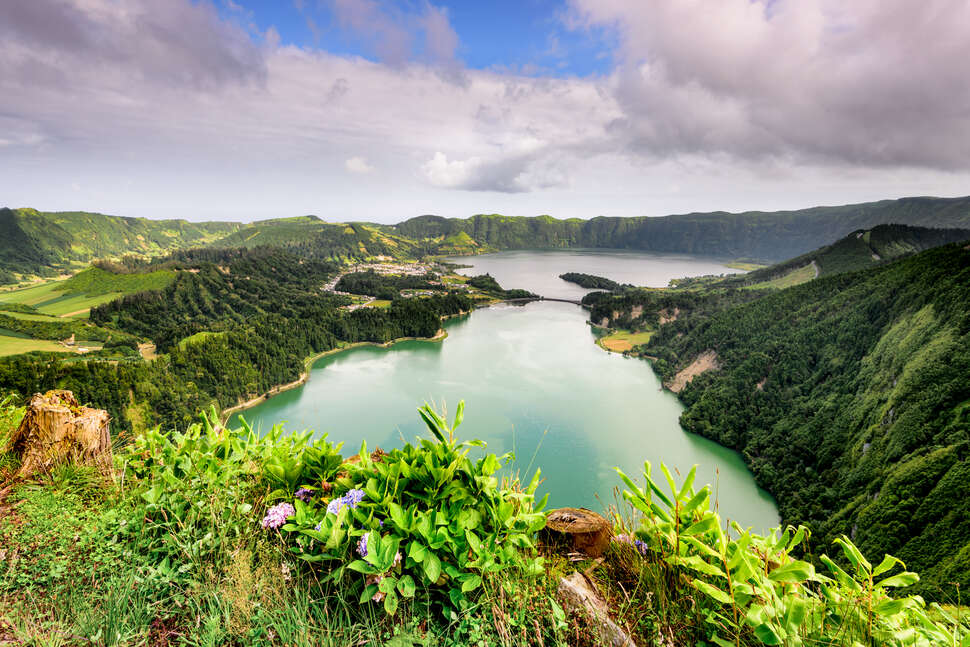 The Azores are least affected by the Covid-19.  The Azores is a perfect choice for a holiday in the great outdoors which is in the middle of the ocean and also away from the crowds and close to nature.
If you want to travel to the Azores then book your flight to Ponta Delgada and also book your accommodation at the least price on the island of Sao Miguel. If you want to stay, book your room at the best price in Vila Franca do Campo. Also, book your best tours and activities in the Azores such as a whale and dolphin watching tour with Vila Franca Islet visit.
The Azores is one of the European regions which is least affected by the Covid-19. The Azores is a perfect choice for a holiday in the great outdoors as it is away from the crowds and close to nature which is in the middle of the Ocean. This small island is actually the visible part of an incredible underwater volcano which is only 1 kilometer from the coast. It has crystal clear waters and a small beach that awaits you in this little corner of paradise unique in the world.
Prague – Czech Republic
The Czech Republic is the European country which is least affected by the coronavirus.  Prague is called by many beautiful names such as "golden", "city of a hundred spires", "the crown of the world" etc. and it is located right in the center of Europe. The Old Town Hall is very famous for its Prague astronomical garden. The Jewish quarter steeped in the legend of the Golem. Cafes attract you to come and have a seat. You will also be attracted by boutiques and sight-seeing cruises on the Vltava. The Gothic Charles Bridge and Church of St. Nicholas in the Lesser Town is the most beautiful Baroque church in Prague. The palace gardens are located outside to avoid the bustle of the city. Every Prague district has its own characteristic atmosphere and has a unique charm. Prague represents a changeable city that likes to alternate styles such as romantic, successful, ancient and modern but above all, it is a city that is cosmopolitan and is used to welcoming foreigners. It is time to get acquainted.
Bodrum – Turkey | Destinations least affected by CoronaVirus

Turkey is a European country that is least affected by the coronavirus. It is located in the southwest of Turkey which is bordered by the Aegean Sea. Bodrum is a suitable destination for those who love beaches, gastronomy, scuba diving, wines.
This is an incredible city which is dedicated to relaxation and leisure and it is called the Turkish Saint Tropez. Do not miss visiting Bodrum Castle during your stay in Bodrum. It is classified among the most beautiful castles in Turkey and was built with the stones of one of the seven wonders of the ancient world. You must go on a boat trip on the Greek island of Kos to discover the heritage of this island. If you are traveling with children then make a splash at the largest water park in Turkey which is in Aqualand.
There is the Castle of St.Peter which is the Museum of Underwater Archaeology. This museum is a fascinating and unique attraction for this coastal region. Archaeological exploration is best both on land and sea in Turkey. 
In short, these are the 10 places that are least affected by hazardous CoronaVirus. So, if you are there, you are safe.