Everything To Know About Vung Tau | Places To Visit, Things To Do & More!
Located 100 kilometers south-east of Ho Chi Minh City on the coast, Vung Tau is a common weekend getaway for the residents of Ho Chi Minh City to avoid the big city's heat and tension. Traffic, noise, and emissions are substituted by the sea breeze, fresh seafood, waves, and sand for two to three hours by lane, or one hour and 30 minutes by hydrofoil (the boat is conveniently leaving very near to District 1).
Here oil is big business, so the horizon is constantly lined with tankers, and the market is driven by petrodollars, inflating prices considerably.
Vung Tau is a strikingly civilized-looking city with broad boulevards and majestic colonial-era houses, but here also flourishes a somewhat seedy bar scene, serving the preferences (and wallets) of oil and gas staff, former Anzac servants and Russian ex-pats.
Few travelers bother visiting the city, but it's a great place to start (or end) an interesting coastal road trip to and beyond Mui Ne.
About Vung Tau
Meaning "boat bay," Vung Tau sits on a hilly land promontory that juts out into the ocean. The star attraction Back Beach (Bai Sau) is located on the eastern side, a three-kilometer stretch of sand that meets the needs of Vietnamese tourists: sun loungers, umbrellas, rentals for jet skis and tube, seafood, beach toys, and beer. The smaller, more central, and lower-key Front Beach (Bai Truoc) is on the western side. A lot of small boats dock here too. A long Riviera-Esque coastal promenade connects the two making for a fun sunset stroll–the French obviously had their hand in shaping the area.
The building shows two styles. The beaches are crowded on weekends and public holidays, the promenade is vibrant, the restaurants are buzzing, and the hotel rates are skyrocketing. Expect that hotel costs are as high as double and that all the good places are packed-if you want to be here during the weekend, book ahead. The city is emptied by a mass exodus on Sunday and slips into a lazy slumber until Friday rolls around, and the rush starts all over again.
Once a French coastal getaway known in colonial times as Cap Saint-Jacques, Vung Tau metamorphosed during the Vietnam War when American and Australian service members used it as R&R. The stigma of being seedy never leaves. While it certainly isn't Pattaya, Vung Tau has bars that are aimed at individual men looking to "unsingle" themselves. That said, it's a part of Vung Tau that's easily avoided, and the big business these days is the offshore oil industry in the city and on holiday Vietnamese families.
Let's have a look at Things to do & places to visit in Vung Tau
Below are some interesting things to do in Vung Tau that you must know about while planning a travel to Vung Tau. One must always add these things in their Vung Tau tour itinerary.
Soak up in Vung Tau's sun, Vung Tau
There are four established beaches in Vung Tau–Front Beach, Back Beach, Pineapple Beach, and Paradise Beach. Front Beach is the most common, which is enough reason to stay away for many others. The water is rather dirty away from the tourists and does not offer the best beach environment. However, at the many stalls and restaurants that have set up shop, you can still enjoy some fresh seafood-they serve some of the most delicious seafood in southern Vietnam.
Switch over to any of the other three for a great shore experience. Back Beach (Bãi Sau) is a little less dirty and is a perfect place to surf. Kitesurfing stores have emerged over the years, selling rentals and courses for all ages as the beach receives some spectacular wind swells.
Pineapple Beach is the most loved  Places to visit in Vung Tau has calmer waters and fantastic views of the sunset, while Paradise Beach belongs to an exclusive busy resort area. Here you'll have to pay an entrance fee that gives access to luxuries like toilets and a luxurious strip of high-end dining options.
Rush to the giant Jesus statue | Places To Visit In Vung Tau!
Giving her best impression of Rio de Janeiro, Vung Tau features a giant statue of Jesus Christ, 105 feet tall as one of the most loved Vung tau Vietnam things to do. Standing atop Núi Nh administrative mountain (usually portraying Vung Tau in most travel guides), this monument overlooks the region from a simple point of view— it's particularly beautiful at sunrise. It's not a straightforward climb up to the top— there are precisely 847 measures to overcome, but you'll be greeted with breathtaking coastal views at the peak. Face a little higher inside the statue itself, and from behind the shoulder of Jesus Christ, you can look at the area. However, to get inside, you need to be properly dressed, so make sure that you pack a wrap that you can tie around your waist to keep it cool.
Hike on to Vung Tau Lighthouse | Places To Visit In Vung Tau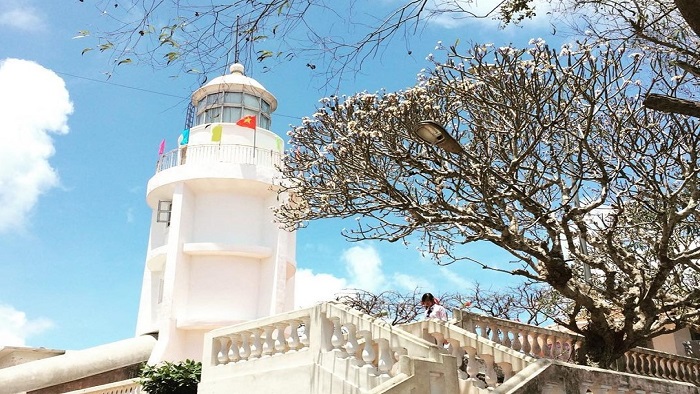 While there is a mountain on the other side of the lighthouse of Vung Tau. Said to be Vietnam's oldest lighthouse, it was established in 1862 by the French as a lookout point for incoming commercial ships. Hike up the opposite side of where you would climb to Jesus to get there. Fortunately, if you're planning a visit after the statue, you can get off and travel back either by a car or motorbike if you're not up again for the walk. The lighthouse is incredibly photogenic and the ultimate Selfie image is worth heading for. It's open 24/7, so if you're looking for an adventure at night, that's it!
Go Wild at the Ecotourism Park
An eco-tourism park has sprung up in recent years, thanks to the influx of tourists to Vung Tau. Hû Mây, Culture & Ecotourism Park, is one of the great places to have a fun day out. You can enter this location by cable car, perched on top of a hill (a recurring trend in Vung Tau) The entrance fee is about VND $400,000 (USD $20.00), which covers the cable car trip and the park's complimentary attractions, of which there is plenty! Bumper cars, rollercoasters, go-karts, water games, even paintball, and archery, this is perfect for a group of friends who want to let their inner child go.
Check out the best restaurants in Vietnam you must try! 
Relish on Vung Tau's Seafood
One of the main reasons that people visit Vung Tau is to indulge in the delicious seafood of the town. A little round seaside pancake, as well as one of the other specialties of Vung Tau is known to cause mass pilgrimages from Ho Chi Minh City over here. It can be found in several markets throughout the region, but the best variety of these little sweets is considered to satisfy those searching for a little more atmosphere.
Vung Tau has many markets to explore, with a wide range of local delicacies and crafts to offer. It is the largest, closest to the city center. Here you will find endless variations of freshly caught seafood that day and grilled on the spot. A very fantastic experience-a little out of town, making it more personal. The other choice is the business of Xóm L Auchi. If you're having a hard time tolerating the unpleasant taste of fish, it's best to wear a mask when you walk through the labyrinth of stalls.
The Best Things to Do in Vung Tau Vietnam
Arms Museum, Historical Places To See In Vung Tau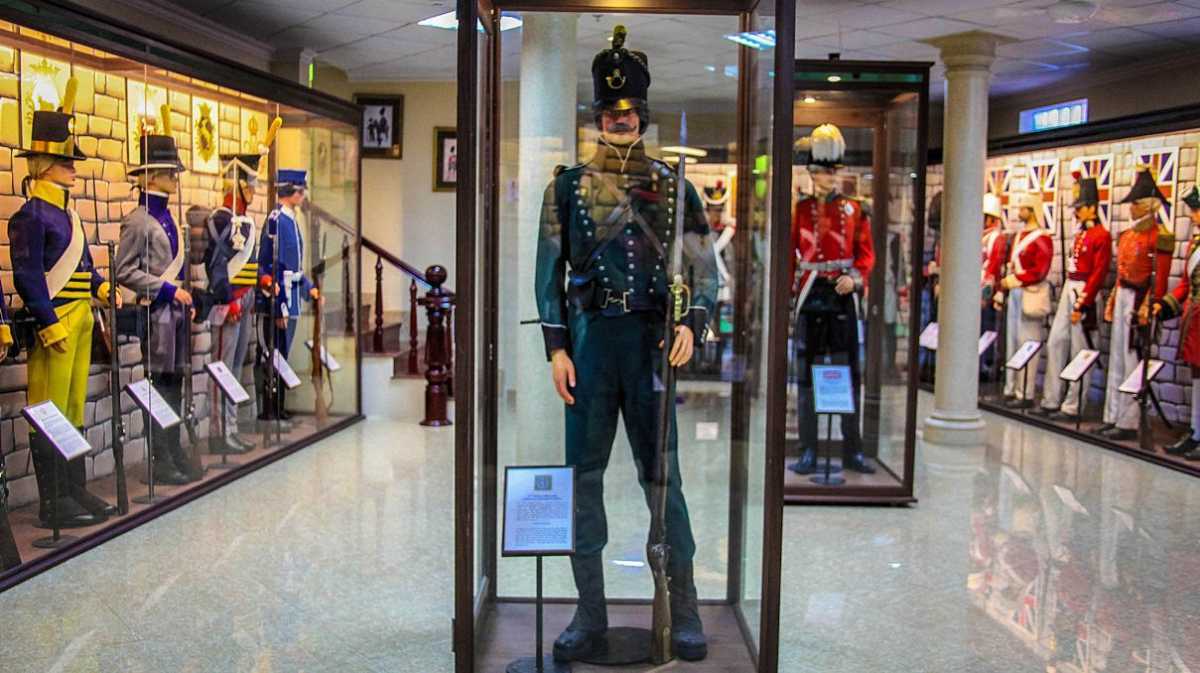 Mr. Robert Taylor and his wife, Mrs. Nguyen Thi Bong, opened and inaugurated the Museum of Ancient Arms, better known as the Worldwide Arms Museum in 2012. It's considered one of Vietnam's best museums. What makes the museum special is not only the fact that it houses countless ancient weapons, but it also contains life-sized men's models in traditional clothes with arms. It's really a total visual treat. With its own unique stories, it houses more than 1000 swords and 1200 weapons. One such valuable piece is the Dutch Antique Gun, with only two pieces in the world.
Thich Ca Phat Dai Pagoda
The stunning, constructed Thich Ca Phat Dai Pagoda in all white fills you with a sense of peace. This pagoda, sitting proudly atop the Big Mountain, is an artful medley of religious architecture and natural landscape. The impressive points in this pagoda are the 19-meter-high Bat Giac tower, and the meditative Shakyamuni Buddha figure installed halfway up the mountain on a lotus model. Only from a distance can one see the Buddha image.
Food to Relish on in Vung Tau
Besides beautiful locations and interesting things to do in Vung Tau, there is much more for one to explore. Here we have listed the best food that one must try while you are in Vung Tau,
Goi CaMai, Food To Enjoy In Vung Tau, Vietnam
Goi camai is one of Nha Trang's most enticing dishes perceived to be the best of its specialties. Mai fish is similar to anchovies, white bodies, thinner, less fishy, and people often use it for salad preparation. The perfect Goi Camai for locals is when they pick the freshest live Mai fish–the fresher it is, the tastier the salad will be.
Mai fish will be rasped off all flakes after being captured. To be marinated very absorbent, it must be boneless. Marinating ingredients like vinegar, garlic, lemon, and chili is quite easy. It will be combined with some "bt thính" (a kind of brown rice flavor), peanuts to raise the scent when fish is medium-rare. This salad is served with rice and fresh vegetables. The dish's sauce contains salt, hazelnut chili, butter, ginger, mustard, fish sauce, smashed peanuts, soda, or shrimp sauce. Although the ingredients appear plain, the art is all about creating a tasty sauce, or not.
Lau Ca Duaoi
If you come here, sawfish hot pot is one of the must-try dishes. As a boneless fish and only soft cartilage, sawfish is common and cooked in many different ways, such as barbecue, stir-fry, or hot pot, but the best is still the hot pot. Sawfish were carefully prepared, and their intestines thoroughly rinsed and then immersed in saltwater or alcohol to eliminate fishiness.
Further, the fish will be chopped into pieces; cartilage will also be chopped into small pieces, then we will stew them at low heat to have the sweet broth. Then add some spices for a good seasoning: some tamarind juice, sour bamboo shoots, finely chopped cilantro, and coriander. Also, the hot pot is eaten with fresh bun (a kind of Vietnamese noodle), green banana, banana tree flowers, and a small bowl of fish sauce with some chili slices. Sawfish hot pot has its unique taste: sweetness and lightness of tamarind and young bamboo shoots, sweetness from pieces of chewy sighted fish, and cartilage crispiness. If you try this soup, all these flavors should totally delight diners.
Banh Khot
Banh Khot is one of Vung Tau's favorite dishes. The locals will consume Khot banh as their daily meals. The "Banh Khot Goc Cay Vu Sua," brand, in particular, is very popular not only with locals but also with tourists. Diners still swarm this restaurant. These tiny round Khot cakes with their white surface, red layer made of shrimp roe, green topping with chopped onions. Banh Khot Vung Tau parallels central Banh Can. But Banh Khot is dry, not as soft as Banh Can is. A Banh Khot combo has 8–10 well-cooked, sweet, matched units and served with some fried minced shrimp and oignons. It's hard to stop eating each time you take a Banh Khot dish.
Banh Canh
Tourists often stop by Ba Ria on the way from Saigon to Vung Tau for snacks and a bowl of Banh Canh Long Huong. You don't have to get fussy with many ingredients, because of its simplicity and purity, this long-standing vendor has conquered several foodies. Banh Canh is made of rice flour and tapioca, soft broth, juicy, greasy pig heads, bacon. After a long journey, all you need is a bowl of Banh Canh and sugarcane juice that will wash off your exhaustion to resume your journey with many other activities in Vung Tau.
In this, we have discussed the complete information about Vung Tau, one of the best places to visit in Vietnam. Located in the prime location, there are many things to do in Vung Tau, several delicious food items to try out and many entertaining places to see in Vung Tau.