cityfrill.com
Sector 26 Chandigarh, Home To Best Restaurants And Cafes Of The City
Visit To These Restaurants In Chandigarh Sector 26 Will Be An Utter Delight.
Chandigarh, the city beautiful is one of the best cities in India. The city has always thrived above all other in every aspect. Being the first planned city what brought this place its glory and now, this city is making its way through food to be popular among the residents. Being a resident of this gorgeous city, I feel really proud to introduce some of the best restaurants in Chandigarh sector 26. Sector 26 is the my favorite go to place being home to Chandigarh's prominent restaurants, food joints, bars, clubs, etc.
No matter if you are a tourist or fellow resident, this list will definitely take you to the delicious food journey in the city beautiful. Below is the list of my favorite restaurants in Chandigarh located in sector 26.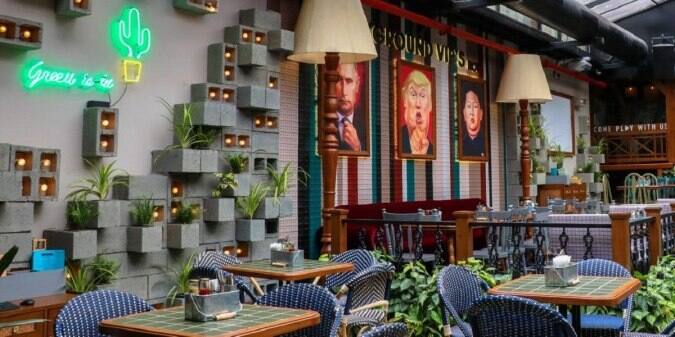 Sector 26, Chandigarh is one of the major attractions of the city. Being a home to many restaurants, cafes, bars, and buffets, this sector is the one place that entertains every resident of the city with something new to look over. After its charismatic experience in our favorite Elante Mall, Playground has entered the city with its very own branch in sector 26 of Chandigarh, the city beautiful.
This is a perfect dining option for those who love mix of quirky pocket friendly drinks and food. My experience at this place has always been incredible. The perfect blend of menu with Italian, Continental, and authentic Indian makes it even more attractive option to pick for a fine night out or a charming lunch.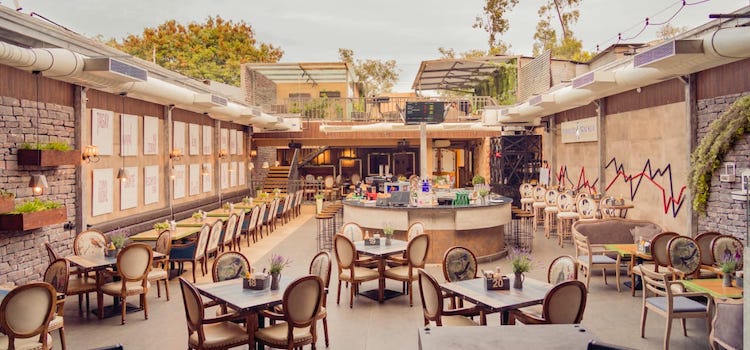 If you are a citizen of this incredible city you must have heard that there is no other place than Boulevard for a perfect party and dining. This is one of my favorite places that I visit often whenever I get chance. The fantastic combination of booze and food in their menu will definitely challenge you to resist yourself to pick all. Its interior and New York theme is what led me to this place at the first place.
I have always been a fan of western classics and this place justifies it completely. This cafe hosts the live performances bring the vibe up for this place. I have never been a fan of cheese, but on a suggestion of a friend I ordered Mushroom & Cheese Cigars and trust me, I loved it. Other than that I have got the chance to try out Spinach Watermelon & Berry Salad and Ricotta Cannelloni, and both tasted like heaven. Wide variety of drinks mentioned on the menu makes this place even more charismatic to the drink lovers like me. This place is counted among some of the best Restaurants in Chandigarh sector 26.
You may also like to check out – Things to do at Rose Garden
Farzi Cafe, Chandigarh Sector 26
Located in 26, this not so old cafe is one of my favorite spot for a yummy sandwich and a hot steaming cup of coffee. In a very short time this cafe has become one of the famous and centre of attraction for the foodies. The excellent architecture design of this restaurant, Farzi Cafe is one of the things I admire.
The restaurant is on ground floor and is intelligently divided into three sections – dull and casual sitting upfront, a courtyard in the middle spinning the life into the restro, and finally the soothing lounge area. Overall, the ambiance of this place is remarkably relaxing and the extended menu here is delightful. It is a wise choice for you to ask for chef's recommendation to make the choice a little easier. Easy to eyes and delicious to tongue perfectly defines Farzi Cafe.
Beach n Brew, Sector 26 Chandigarh Bar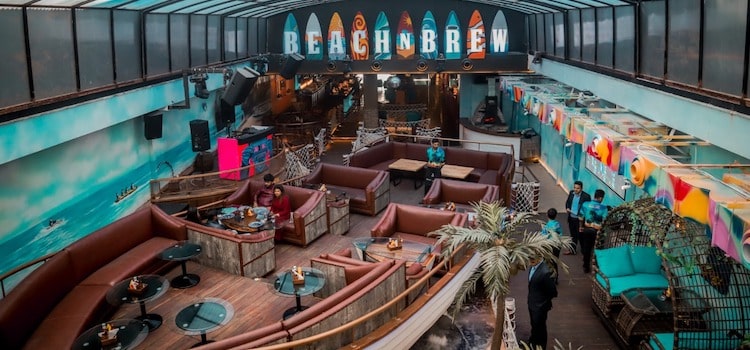 Beach n Brew, this time I went completely speechless when I gazed upon the interiors. The ocean theme they picked really took my breath away and the architect, well! He did a perfect job. If you have not been to this place yet, I suggest you visit it as soon as possible because this is the place where you will see the vision of an expert architect and the dream of a foodie came to life.
Chandigarian has always been creativity enthusiasts and this is what initiated the idea of its design. Interior is not the one thing that we look for in a restaurant, but it is definitely the one thing that attracts us to the place to try it out. The list of its intoxicating concoctions and their own set of crafted beer are must try drinks.
There collection of mock tails add on to the reasons why you should visit Beach n Brew located in sector 26. Not only this, the place hold a wide range of food menu to delight everyone with any choice. Sitting there listening to music, drinking some of the finest drinks and blends with delicious cuisine on the side makes a perfect evening, what say?
Hunka Hunka Town, Cafe in sector 26, Chandigarh
Hunka Hunka Town is marked as one of the best restaurants in Chandigarh sector 26. The warmth in the ambiance of this place will bring the sense of relaxation while you enjoy the delicious cuisines they offer in their menu.
The orgasmic taste in the food will being your taste buds the joy that you have never experienced before. This little cafe has everything from Indian, Continental, European, Chinese to Italian and the intoxicating drinks. So, if you are looking for the one place to enjoy delicious food in a relaxing ambiance, this is the perfect choice.
Barbeque Nation
The destination for all with everything on its menu, that's what defines Barbeque nation. This is one of the best buffet restaurant located in sector 26 Chandigarh. This is the one place where you can enjoy a delicious buffet that will tingle every nerve in your tongue and take you to a delightful journey of taste. This remarkable place is designed with a perfect blend of cozy architecture and interior.
Click here to find out more about this restaurant.
Try The live grill at this buffet makes it one of the most appealing buffets in town. From starters, salads to main course, the restaurant is one of the best choices that Chandigarh has. Although drinks are there in the menu still they are not included in the buffet. I have been here twice and both the times I left smiling with the filled tummy. So, I would suggest you to go there with your stretch pants on.
If you are new to town or are just passing through and are looking for a perfect dining option, this list will definitely guide you through the choices you have. I have been to these places and will keep adding the spots once I get a chance to visit them.
Hugs and Kisses!!!
Keep reading and Keep Eating!
Disclaimer: All the places that I have mentioned above, I have personally been there. The recommendations are based on the personal choice and I have made the list to keep you posted with the choice you have in the city.